I'm doing a fun new link up with my girl Shannon over at
Page Twenty-two
today...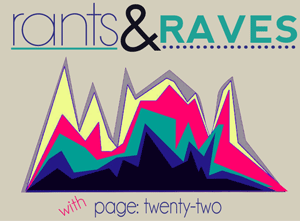 Let's get started, shall we?
---------- R A N T -----------
This Physician's Formula Felt Tip Eye Marker that I picked up in my Ulta Haul the other night. My second day using it and the verdict is still hate, hate, hate. Barely anything even comes out of the tip and it tugs on my lids SO MUCH. If Ulta wasn't so far, i'd totally be returning this thing. Good thing it was under $10.
---------- R A V E -----------
Jillian Michaels is no joke people! Even when it comes to yoga. I picked this up last week in the midst of a donut induced coma and tried it last night. This bish works you out! If you're looking for a good yoga video you found it. But let me warn you, its hard core, strength training -- not this relaxi taxi, ohm easy stuff i was thinking it would be. Did i mention i can't lift my arms today? Damn you side planks (even though i only did half of them. and i kept falling over)!
---------- R A N T -----------
Let's title this rant - "people at work suck" and leave it at that.
You know who you are.
(even though these people do not read my blog.
only the cool ones do!)
on the plus side, its Friday, so i'll have 2 glorious days off from being in a constant state of annoyance.
Margaritas anyone?
---------- R A V E -----------
i always read my blogs thru Google Reader. i tried other readers here and there, and despite the hiccups with reader that irritated me from time to time, i just stuck with it. But lo and behold, now that i've switched over to bloglovin', i am totally mc-lovin it! plus there's an app for it. who doesn't love reading blogs on the go?
What are your rants and raves for the week?
Link up so i can see!
P.S. 3-peat with posting this week! Boo-ya!