So i hit up Ulta yesterday, with my trusty 20% off coupon.
Super excited since i was running low on a few things and also needed a new Clarisonic brush head and those puppies are pricey!
Here's what i got along with some first impressions:
:
Clarisonic Acne Brush Head
:
Thoughts -- So far, so good... being that you're supposed to replace these brushes every 3 months, and being that the last time i replaced mine was almost 3 YEARS (oops!) ago, i am liking this brush for acne prone skin! the one i had before was for "sensitive" skin, so we'll see if there's a difference! The amount of makeup this thing takes off is crazy!
:
NYX Soft Matte Lip Cream - Milan
:
i LOVE this stuff. first of all, ya can't beat the price point, $5.99 #pleaseandthankyou. Second, the staying power of this color is fantastic... you can even eat and drink and the product stays put! its a bit weird to get used to at first, because it literally feels like there is nothing on your lips, and at times, they almost feel a little on the dry side. but the color is super bright and super matte. if you're looking for a change up from a gloss, definintely check this lip cream out. i also have the color amsterdam, which is a brighter orangey-red that i have yet to wear out. once spring hits, i'll be breaking that out!
:
Revlon Colorstay Whipped Creme Foundation - Warm Golden
:
This right now is my holy grail of foundations. I tried it a while back and have posted on Instagram and the blog about it, but I just need to put it out there again. This foundation is thebomb.com. No diggity. No doubt. It lasts all day, has a flawless finish and is under $15. Be still my heart. LOL. I picked up my second jar of it and it will be a staple beauty product as we head into spring. I'll be interested to see how it holds up as the weather gets warmer!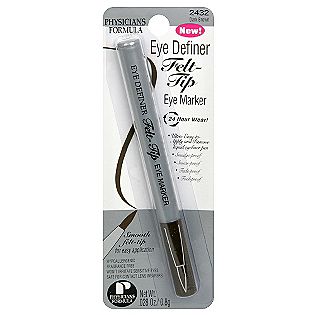 :
Physician's Formula Eye Definition Felt Tip Marker - Ultra Black
:
Well dolls, unfortunately there had to be 1 thing i purchased that i considered a fail. And for me, it was this eyeliner. Now, this is a preliminary review since i only used it for the first time this morning. But, i gotta say, i'm not loving it. The marker didn't feel "wet" enough, it didn't glide nicely along my lash line and it took several layers to get it to fill in. I actually ended up going over it with my Too Faced 3-way Liner AND some UD Naked Basics shadow. I'll give it another go this week, but i was not impressed.
:
Revlon Lip Butter - Sweet Tart
:
This lip butter has been on my list to pick up for a while now. I love these lip butters, they have decent coverage/color and feel so nice and creamy on your lips! this is such a fun bright pink springy color, i can't wait to wear it!
:
NYX Round Case Lipstick - Gala
:
I haven't tried any of the NYX regular lipsticks so i picked this up, come on, it was $4, how could i resist? The color seems a bit on the light side for my skin tone, but i'm going to see what i can mix it with before i give up on it totally. It looked really nice in the tube, so i'm hoping i can make this work!
Last but not least, i grabbed
:
Maybelline Dream Lumi Concealer - Nude
:
This is also a repeat buy for me. I love how this concealer paints on and is very easy to use, and not messy. I use it under my eyes, AFTER foundation, to highlight -- aka the Kim K look of having highlights under the eyes. My only gripe, i wish there was more product in each tube! I feel like i went thru this fairly quickly. It's only $8 but still, i wouldn't mind it lasting longer!
So there was my Ulta Haul for the week. I'm on a mission to find one more thing -- a Milani Texture nail polish that i want to try, and then i should be set...
til next week
for a while!
What are some of your favorite products from Ulta?