Howdy friends!
No small talk today, let's just jump into the link-up!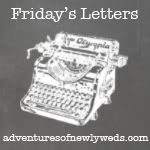 Dear YouTube:
Thank you for sucking me in with your endless hours of beauty blogger videos. I know now how to HAC (Hightlight and Contour), achieve false lashes with 3 different types of mascara, and have Victoria's Secret runway make-up (you forgot to mention that you still need the crazy amazing bodies though)...
Dear Fridge:
Sorry you're so empty. I promise to fill you this weekend... insert sad face...
Dear Sims FreePlay app:
You are sucking the life out of me. These SIMS are so damn needy! But let's face it, i love that i can make my own mini world of drama in the palm of my hand. You got me, i'm addicted...
Dear Sephora:
Thanks for the awesome $15 off of $50 coupon you so graciously stuck in my e-mail the other day. Don't mind if i do!... because i really really need more products...
Dear Ulta nail polish:
We have such a love/hate relationship. The color is great. The consistency of your polish sucks...
Dear Work:
I'm glad you finally slowed down a tad. Now i don't have to jump off a bridge...
Dear CVS/Ulta/Rite Aid/Target:
Thanks for being close enough so that i can fill the happiness void in my life (because of work) by buying products. Tons and tons of products. (Quick recap of what i bought this week: ELF neutral eyeshadow palette, ELF eyebrow kit, Maybelline Falsies Mascara, Ulta nail polish in Envy, mini eyebrow razor, Nivea Lip Balm Holiday pack, big round brush, Organixx Coconut Hibiscus Body Lotion, and the list goes on...)
Happy Friday Friends!