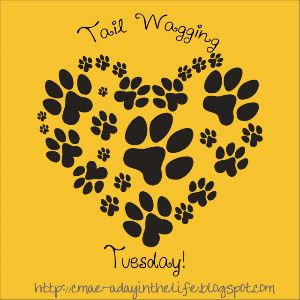 Linking up today with the gorgeous
CMae
for Tail Wagging Tuesdays!
The topic... holiday pets...
Now i've done many a holiday card with the pups...
Last years was here...
This year, we focused on the wedding pictures, but still signed Love Gary, Shana, Scooter & Rio C.
(they ARE part of the family, i can't leave them out!)
My mom sent me some iPhone pics of the dogs...
she must be *really* bored during the day i guess
(3 dogs apparently aren't enough to keep her busy, i'll just HAVE to add a baby into the mix. hehehe. well... eventually. not just yet.)
Rio was Mr. Jingle Bells
and KD (my parents dog) was Mrs Santa!
She looks downright depressed wearing that thing!
Poor scooter had no holiday flair.
I think he thinks he's above all this immaturity as he kept running away from my mom!
Have a tail wagging Tuesday!