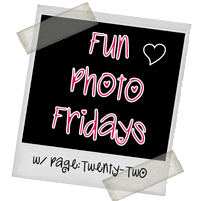 Linking up again this week with my girl
Shannon
over at Page Twenty-Two for Fun Photo Fridays. And THANK God Its FRIIIIIIIDAY!!! Even though this week was "short" it seemed way long. Agree?
Anyway, today i'm going back in time to the day i got my first precious little pup scooter. why, yes, i have an unhealthy obsession with my fur children. i may or may not cuddle them like babies, talk to them constantly and treat them like humans. But what can i say... how could you not be in love with this little face?
please ignore the "stoned" look in my eyes... i had just gotten home from a business trip and was exhausted... isn't he such a cute little pip squeaker!!!
we had just given him a bath since he arrived stinking to high hell...
yes we got him from a breeder in missouri, so he had arrived safe and sound at newark airport and we picked him up there... poor little guy was practically comatose from being hypoglycemic.
i immediately gave him some special sugar aka "yum yums" and he perked right up!
he's big enough now that i don't have to do that, but still gets excited when he hears the words yum yums. LOL
love my little boy!
link up and show me your favorite photo memories!
tonight we have dinner in staten italy island for my mother in laws 80th!
tomorrow we're off to visit G's friends and their kids and then to hang with my college bestie and her fam for HER bday... cross your fingers that the snow holds out for us!
also, need lots of prayers that G lands the dream job he applied for last week!
have a great weekend!