Well they say better late than never... so here's my link up with the fabulous
bargain blonde
...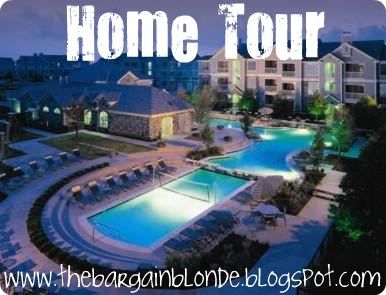 This week's room in the home tour is the room where "all the magic happens"... i can't help to giggle when i say this because if you really knew the goings on in my bedroom... its far from that... mainly because of these guys...
anyway... the little buggers take over the bed, even though they have their own little beds and house in my room...
1. little buggers' house... that they never use... that was a great waste of $20.
2. my flip flop swap package... that since then has already been mailed out. the top of the dog house is where i throw random crap when i come in and sir speedster.
3. feeble attempt at decorating. having moved 6 times in 7 years, i've sort of taken the minimalist approach to decorating. i have a framed photo of my parents dog (who went to doggie heaven) as well as his urn (with only 1/5th of his remains, yes ma dukes DIVIDED him up... crazy lady), i have an oil diffuser that i got ON SALE from pier one, and a lucky bamboo (from shoprite) with rocks and vase from pier one.
4. organizer from west elm that has some random crap in it... pens, hand sanitizer, flashlight, you know, all the essential things every girl needs in her BEDROOM.
Ahhh so here's the full shot with the bed... i got a king when i was married and then promptly got divorced (i know im great with timing). You would think with just me in the bed it would be heavenly, but like i said the pups take over and i end up in a corner... theys so spoiled!
1. Notice the invisible decorations hanging above my bed... do you love them? oh wait, you cant see them? shit. neither can i.
2. Make shift night stand, that holds more crap... will get into that next.
3. My crazy expensive Restoration Hardware duvet... posted about it
here
this is my "nightstand". ok ok its really just some cheapy cabinet from target. but it does the job for the time being so i can't complain.
1. the top shelf is used for all my meds... because i have 2 roommates, i keep most of my stuff in my room (as if you couldn't tell) and we try to keep the bathrooms clutter free. i also have some of scooter's meds mixed in with my meds, so if you ever don't hear from me for a while... i might have morphed into a dog or something from taking the wrong thing.
2. shelf two, is SUPRISE! MORE RANDOM CRAP. i really thought i wasn't a pack rat. but clearly i am wrong. at least this crap is contained in a basket. i at least TRY to keep things organized. this is more bathroom stuff that i just keep in my room
3. bottom shelf. let's say it together... MORE RANDOM CRAP! YAY!
here is one of the 2 closets i have in my room... i know what you're thinking. this girl has TWO closets and STILL SO MUCH crap! that's what i think all the time so its all good. anyway, this one is a walk in which is nice... its organized by color...
1, 2, 3. the top of the dresser has assorted perfumes and hair products. love this body lotion... and my hello kitty perfume! (not sure why i bothered numbering in the photo... pretend those pesky numbers aren't there).
this is the second closet. its not a walk-in, sliding mirror doors.... houses laundry baskets (yes plural, i like to separate lights and darks) shoes, belts and purses. (and yes. probably more random crap. ugh.) and yes, that is one of my weaves hanging from the top. it looks like cousin IT hanging out in my closet. bwa hahaha.
and finally, the piece de resistance! the vanity!
1. as there isn't a lot of direct light in my room, i use this $5 ikea lamp to light up the area
2. make up make up and more make up! most of it compliments of my awesome roomies who work for mac and too faced! #love
3. decided to put all my brushes in a cup for easier access... got the cup at home goods for $6.99
4. mini set of drawers, originally used for office supplies, i emptied it and the top drawer is blushes & bronzers, the middle drawer is lip products, and the bottom drawer is eye pencils.
Anyway, that about sums up the trainwreck i call a bedroom. i wish it was neater and more organized and had less random crap. but it is what it is for now. til i move again in 5 months. then maybe i can finally have a "grown up" room. LOL hope you all enjoyed a glimpse into my world!
link up with
lindsey
and show us your rooms!