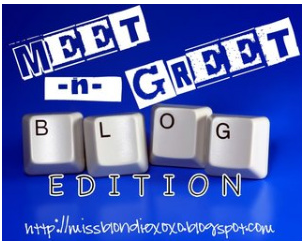 Hi, my name is Shay (hi shay) and i'm a blogger... i tried to start a few blogs here and there over the years but fully committed to writing this past year (new years resolution). i pretty much just started it for myself as a creative outlet, to help me to remember things i wanted to accomplish, fashion trends i liked and recipes i wanted to try out. Since then, its turned into much more than i ever thought it would be and i love all the new bloggy friends i am making along the way!
I named my blog Sweet Silver Linings after a song by Kate Voegle...
The words of the song really reflected how i felt my life was at the time and even though life isn't always a smooth ride, i like to think that my overall outlook is optimistic and i can always find the silver lining to every cloud that passes my way.
Here's a link to my FIRST ever post... in the beginning, it was kind of weird since i wasn't sure of who (if anyone was even reading my blog). I had sent my blog link to a select few people (no family) and decided that I would just write for me...
Some of my favorite posts have been about my pups, who are a huge part of my life. I got Scooter 6 years ago, when i was engaged and starting a new chapter in my life. We got Rio a year later as a buddy so Scooter wouldn't be lonely. Then life takes us in directions that are unexpected and after a lot of heartache, i found myself once again single - divorced this time and starting over. Throughout all of life's ups and downs, these guys have been there for me... with their understanding eyes, their playful smiles - never judging me, always loving me. The loyalty of a pet is like nothing else, and I love that
CMae
created these link ups to bring us animal lovers together. Here are a few of my Tail Wagging Tuesday posts:
Blogging has enabled me to get to know myself better as well. Through life we can only grow from our experiences and I believe that the better we know ourselves, the better our chances in truly finding happiness become. So, my road to self-discovery has led me to posts like
Blogging has allowed me to chronicle my life diary style... recaps of weekends, dreams, how i felt in specific situations... I used to keep journals when i was younger and i'm glad i'm able to use this as an online "jounral" in a way so i have these memories and feelings on record. Not all my recaps have been sunshine and rainbows, but they are all me, and how i feel and what i think... and i love that i can express myself in this way.
So that's pretty much it. Hope you come check out my blog! I have so many of yours plugged into my Google Reader and i love commenting on your successes, giving advice and absolutely love all the beauty and fashion tips that i get!
Thanks
Michelle
for thinking up this great link up!